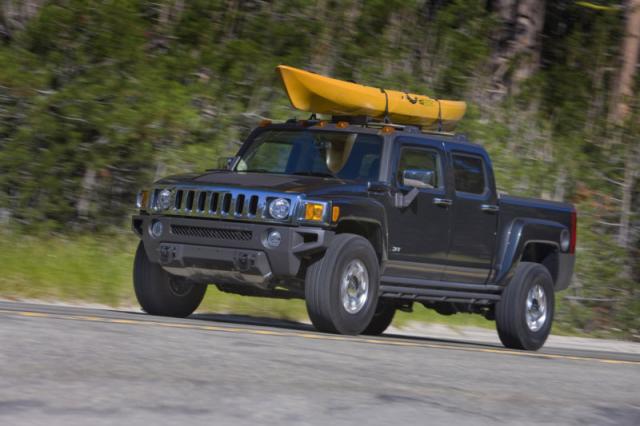 Hummer H3T, new pickup version based on Hummer H3 will make its appearance at Abu Dhabi Motorshow and will be available in showrooms after that in mid December 2008.
H3T is smaller than a full size whilst bigger than a mid size pick up truck , which makes it unique in this segment, well it is unique anyway, because it's a Humvee! This being a Hummer means it comes with Hummer's hardships as well, but GM sort that out too, … sort of! They are offering a 5 cylinder in-line 3.7-liter Vortec engine which might be less heavy on fuel but with 255 horsepower and 327 Nm of torque it certainly is not enough to move this 'still' huge car around optimally. I'd have more powerful V8, I'll pay quit a lot more for fuel , but at least I won't lose my will to live after every drive !!
GM's Press : 
Dubai, United Arab Emirates – Visitors of the 2008 Abu Dhabi International Motor Show this December will get a glimpse of the HUMMER H3T, HUMMER's first entry in the pick up segment. The H3T boasts unmistakable HUMMER style and unmatched capabilities, and is set to hit Middle East showroom floors in December. 
Based on the architecture of the popular H3, but featuring a five-passenger crew cab and a separate 1.5 metre long bed, the H3T will hit the showrooms across the Middle East by mid December 2008. The H3T is bigger than a midsize pick-up and smaller than a full-size pick-up, creating its own niche in the market. It also is infused the HUMMER brand's intrinsic values, including exceptional off-road capability and a premium interior that is as functional as it is comfortable.
"With its unique size and HUMMER traits, the H3T is ideal for the customer who works hard and plays harder," said Johnny Amiouni, Marketing Manager of HUMMER in the Middle East. "It offers the combination of truck versatility and HUMMER off-road prowess that delivers customers to the trail in style."
In addition to its segment-defying size, the H3T also stands apart from other trucks with its signature HUMMER off-road capability. It is the only midsize truck to come standard with full-time four-wheel drive, 32-inch tires and functional skid shields. It also is the only midsize truck to offer front and rear locking differentials.
The new H3T will be available with a Vortec 3.7-liter in-line five-cylinder engine with dual overhead cams and variable valve timing offers most of 255 horsepower at 5,800 rpm, while torque of 327 Nm of torque comes at 4,600rpm. This power is transmitted to the wheels via a five-speed automatic gearbox. 
The HUMMER H3's capability has been lauded by customers and critics alike. The H3T is also equally capable and more practical as it can tow up to 2,676 kg with ease.
About HUMMER
HUMMER is the youngest brand in General Motors' portfolio, and is the fruit of an agreement between the world's largest automaker and AM General in December 1999. The iconic HUMVEE is the original HUMMER, the cornerstone of the brand. Its core values are still largely maintained in current HUMMER line-up, the most capable line-up of off-road vehicles that don't compromise on luxury.
In the Middle East, HUMMER's line-up consists of the H2 which reflected an evolution of the brand making HUMMER more accessible to a wider civilian audience upon its launch in 2003; the midsize H3 that widened the brand's appeal to a an even broader range of owners. 
Three years after its reveal as a concept car at the 2004 Greater Los Angeles Auto Show, the production-ready 2009 HUMMER H3T is set to bring its unmistakable style and unmatched capability to the truck market. The H3T is based on the architecture of the popular H3, but features a five-passenger crew cab and a separate 1.5 meter bed. It also is infused with the attributes expected of a HUMMER, including exceptional off-road capability and a premium interior that is as functional as it is comfortable.
At the 2008 North American International Autoshow, HUMMER revealed the HX concept; its vision of an agile, trail-ready, open-air vehicle that fits the lifestyles of everyone who needs or wants to drive off road, in style.