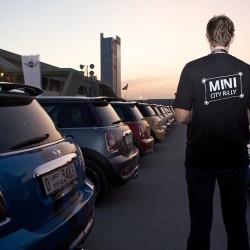 MINI owners in Dubai now have their exclusive club which marked it's launch by a city rally across selected arears of town.
Over 50 MINI owners and enthusiasts took to the streets of Dubai in convoy to test their mettle in a city-wide series of challenges for the first MINI City Rally. Putting both their wits and the automotive prowess of their cars to the test, the group enjoyed a fun-filled day completing MINI-inspired tasks at key locations around Dubai. 
The rally marked the launch of MINI Club Dubai, an exclusive members club dedicated to celebrating the integrative and dynamic MINI brand. The club will provide a platform from which MINI activities and events will be coordinated. Speaking at the event, Natalija Norikova, Marketing Manager of AGMC, the exclusive importer for MINI in Dubai, Sharjah and the Northern Emirates said, "MINI is such a creative and vibrant brand. Through this thrilling event we wanted to provide an opportunity for people to experience not only the driving enjoyment of a MINI, but also pure excitement which is the nature of what MINI stands for". 
"We have created the first MINI Club Dubai to give owners even more opportunity to enjoy MINI and what it has to offer. This all starts with the first MINI City Rally."
With challenges set, teams were deployed on their various missions to become the 'MINI City Rally Champion 2008'. In true MINI style tasks were designed to not only test driver ability, but also their creativity, humour and intelligent thinking. 'Portrait MINI' required participants to take photos of their teams in the most creative way possible. Fill MINI', a test of spatial awareness, challenged participants to pack the most number of people into one car. The highest scoring team managed to fit 15 people in a MINI Clubman. 
Paul Macleod, who participated in the event said: "The rally was such a great idea and being able to enjoy the day and get creative with other MINI owners was an excellent challenge. As a proud MINI owner I enjoyed participating in an activity that brought likeminded, enthusiasts together. I will definitely be joining the club."
The final stop on the rally saw all participants meeting at the Dubai Autodrome to network with other MINI owners, explore details of the new MINI Club Dubai and drive their MINI cars on the racing track.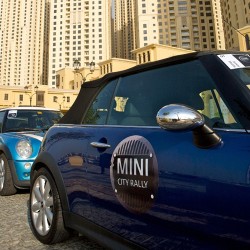 source : xpress4me.com