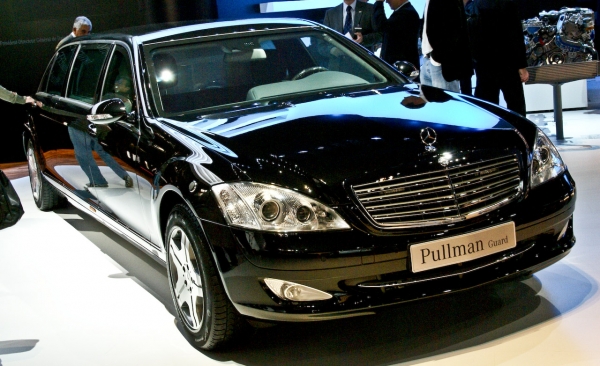 Emirates Motor Company, Dealer of Mercedes Benz in Abu Dhabi and Al Ain, announced launch of a highly exclusive limousine, Mercedes S600 Pullman Guard. Pullman is the maker of finest limos based on Mercedes ultra lux sedans. Their latest S600 model has been armoured by Mercedes Guard division and is totally protected against middle eastern terrorist's favourite AK47!
In terms of luxury, this being S class 600, there was no shortage in the initial car (save the size actually!), but to satisfy VVIP costumers it's undergone Pullman treatment, and the result is plain to see. Top notch comfort and entertainment alongside with maximum security ensured for all 4 passengers. It is powered by Mercedes 6 litre V12 biturbo engine which like suspension and structure is modified to comply with added weight.
This car is targeted to rulers and royal people however if you somehow think you need an armoured vehicle, EMC takes order for bulletproof S , E , and G classes.
source: AMEinfo