Alright, stop digging through camouflaged spy shots! AutoMotorSport published actual pictures of much anticipated new Mercedes E class. Newly designed headlamps and new bumper with
 LED lights are most significant changes at front, while the whole car is following Mercedes new design line seen in new C and SL class. It has more aggressive pointy style at front, and sure has more presence than the old one.Back end is a bit fatter than before, and has a simple design all round. In fact whatever you see in C class there is a bigger version of it here! revised tail lights are also a nice touch. Anyhow, the car looks good, as always Mercedes didn't disappoint with its replacements!
 Mercedes is constantly working on its engine range to achieve better efficiency, so with every new model same engines are better, cleaner, more economical, and more powerful. They've packed new E class with a whole set of diesel engines which all meets new CO2 regulations for 2012 including 200 CDI (136 hp), 220 CDI (185 hp) , 250 CDI (204 hp) and 320 CDI (224 hp). Like always all petrol engines including 63 AMG which is currently under development,are upgraded too so they come with more power and better fuel consumption. There is also a new Start-Stop system .
AutoMotorSport also has renders of CLK replacement and a new model called CLS Combi-Coupe which I dunno, it's a Hatch back Estate Coupe Sedan car !!!!! 🙂 :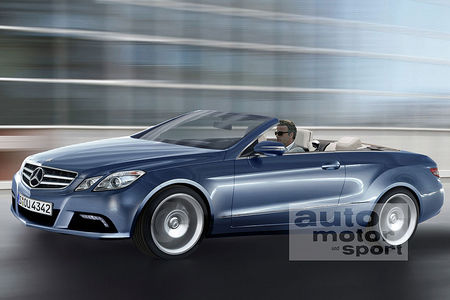 source : AutoMotorSport