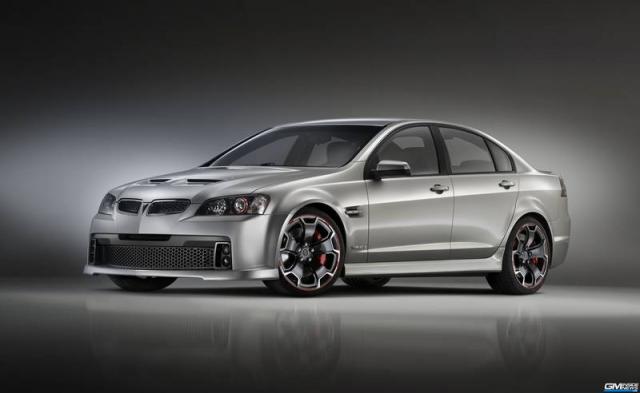 GM Performance parts unveiled a custom version of massively cool Pontiac G8 to show off their latest high performance engines, GXP and LSX454, in a good way! G8 GXP features a V8 6.2 litre with 415 Hors3power and 562nm of torque, while LSX is a massive 7.4litre V8 muscle which produce a crazy 638 Horsepower and torque of 813nm and is linked to Hydra-Matic 6L80 six-speed automatic transmission. So if you are an economy minded petrolhead you should go for the first one which  will do probably 15mpg, if you're careful ! The latter, LSX, definitely will struggle to get into double figures in this sense. But don't worry because while LSX is a nuke, the GXP is no less than a Cruise missile, It's still GUTSY enough to make your spine shattered !!
Of course the car they've put these monsters in it should look reporting, so exterior is upgraded by new sport bumpers with honeycomb grille at front and diffuser at back and new exhaust system with custom pipes. Ride height is lowered by using Cadillac CTS-V suspension components, brake package also comes from Caddy and is covered with 20″ alloys in Chrome Black finish. They've also thrown some new things inside like new leather trimmed seats or new gauges and graphics.
Pontiac G8 is known by different names in different markets, Holden in Australia, Vauxhall in Britain and here in middle east Chevrolet CR8. This car is one of the best values out there for those seeking huge driving fun for no money or as Top Gear put it up M5 performance for half the price. It also is tuner's favourite for its great customizing potential.
source : www.gminsidenews.com