For me, AMG , are the best three letters in the automotive world! They always do nothing but the best. Their work is the reflection of perfection, absolute joy and tremendous fun. Driving, or even riding, in an AMG car is an unforgettable experience. Latest gems by Affalterbach jewelers, includes the incredible SL 65 AMG "Black Series",  ML 63 AMG "Performance Studio" and ML 63 AMG "10th Anniversary"…
SL 65 AMG BLACK SERIES
SL 65 AMG Black, which offers racing performance with alcantara and leather simultaneously, is definitely a car in its own league.It is made by the same guys who worked on Formula 1 safety car SL63 AMG. There is no competitor that delivers such experience with this level of quality and refinement. It is powered by Mercedes famous Nuke, the 6.0 litre V12 Bi-turbo which in the black checks out a massive 670 hp (normal 65 models got 612)  and torque of 1,000 newton metres! It is an stripped version of SL65, and it is a full 250 kg lighter than that, but still got a lot of luxury items, which again make it a unique combination of power, exclusivity and feel. This is why AMG Black is not comparable to other light weight stripped out super cars, as they tend to chop your head on every step on gas or brake your back on every bump and have (It's a Jezza saying!) fewer luxury than an Egyptian lavatory! But SL 65 Black is absolute power not corrupting, but under control, and it cares about you,while it can smoke everything else out there at a light touch on the right pedal. It is priced at 327,250 Euros , yea, it's helluva money, but then it's helluva car!
ML 63 AMG Performance Studio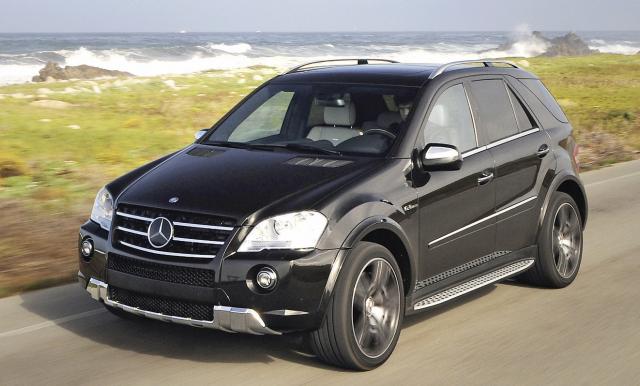 Mercedes was the first to introduce Performance SUV class to the market, and after the ML63 AMG almost all SUV makers added a hot version to the lineup. Here is the upgrade by AMG's PERFORMANCE STUDIO which gives a fresh look to the mighty ML. Most impressing item is new AMG high-sheen light alloy wheels which are size 21″ on this car. They are colored same black as body. But main story is inside where there is a totally new exclusive diamond trim. AMG marks are engraved in headrests which is a very cool touch. continue below for more details on this…
ML 63 AMG 10th Anniversary
As I mentioned above, Mercedes was the first with high performance SUVs and ML 55 AMG was the first of the breed , launched in 1999. Powerplant in that was the V8 55 series which is one of the greatest engines of all times, this engine went up to more than 500 horsepower in some models before it replaced with new 63 serie. In ML 55 it came with 347 hp which ten years ago was a lot of power! ML 63 10th anniversary is a limited edition with all new options are not available with regular ones. check below for more details in official Mercedes note …
Press Release:
Laguna Seca – AMG presents three special high-performance vehicles: the SL 65 AMG Black Series, the ML 63 AMG "10th Anniversary" and the ML 63 AMG "Performance Studio". With its 493-kW / 670-hp AMG 6.0-l V12 biturbo engine, spectacular look, consistently lightweight design and eminently exclusive character, the SL 65 AMG Black Series high-performance coupé introduces sports car fans to a whole new world in terms of dynamic performance.
The ML 63 AMG "10th Anniversary" is a tribute to the first-ever high-performance SUV, the ML 55 AMG, launched in 1999. With distinctive bodywork details and a delightful combination of fittings, this M-Class vehicle will appeal to customers who place a high value on individuality and exclusivity. The ML 63 AMG "Performance Studio", with especially exquisite fittings, showcases the expertise of the AMG PERFORMANCE STUDIO opened in 2006.
All three high-performance cars were developed in the AMG PERFORMANCE STUDIO – by the same experts who were also responsible for developing, designing and deploying the Official F1™ Safety Car and Official F1™ Medical Car. With the SL 65 AMGBlack Series, it is apparent from the first glance that the transfer of high-tech from the realm of motor sports forms an integral part of the Mercedes AMG philosophy. Developing a maximum output of 493 kW/670 hp and maximum torque of 1,000 newton metres, this newly developed two-door car attains a superb level of dynamic performance: it can accelerate from 0 to 100 km/h in just 3.8 seconds, and its top speed is 320 km/h (electronically limited). Power transmission is taken care of by an AMG SPEEDSHIFT PLUS five-speed automatic gearbox, with four drive programmes and a double clutch function.
The completely new body design with large air inlets, wide mudguards and an extendable spoiler features a large number of components made from especially lightweight carbon-fibre-reinforced plastic (CFRP). The new closed roof with integrated roll bar is also made from CFRP. Compared with the SL 65 AMG, the SL 65 AMG Black Series is 250 kg lighter.
The chassis is a completely new design: the coil-over suspension with a large adjustment range and the more direct steering, together with the rear axle limited slip differential and 3-level ESP®, ensure distinctive driving dynamics, optimum traction and pure driving pleasure. The 19" or 20" Dunlop sports tyres guarantee the best possible racing track performance, and the AMG high-performance brake system features the very latest in compound technology. The all-black interior of the SL 65 AMG Black Seriesexudes a racing ambience: the interior components, which feature nappa leather, alcantara and carbon, should get sports car fans' hearts racing.
ML 63 AMG "10th Anniversary": birthday greetings from Affalterbach
With this special model based on the ML 63 AMG, Mercedes AMG calls to mind the success of the first high-performance SUV, the ML 55 AMG. The top M-Class model, launched in 1999, was powered by an AMG5.5-l V8 engine developing 255 kW / 347 hp, and is considered to be the founder of a new class of vehicles – high-performance SUVs. The ML 63 AMG "10th Anniversary" fascinates with its expressive design: a new engine bonnet with power domes, radiator grille and Himalaya grey underseal for the front and rear end, Himalaya Grey 21" high-sheen light alloy wheels, shaded Bi-Xenon headlights with active curve illumination – with its AMG 6.3 L V8 engine developing 375 kW / 510 hp, the AMG SUV makes a strong impression even when stationary.
The unusual composition of the interior is also intriguing: an exclusive tone is set not just by the two-tone nappa leather upholstery on the AMG sports seats and AMG sports steering wheel in black / Alpaca green or black / light brown, but also the upper part of the dashboard clad in black designo leather, the black roof lining and the charcoal poplar wood trim.
ML 63 AMG "Performance Studio": maximum luxury
The expertise of the AMG PERFORMANCE STUDIO in catering to the wishes of individual customers at the Affalterbach plant is showcased in the ML 63 AMG "Performance Studio". The 21" AMG high-sheen light alloy wheels, painted the same colour as the car, along with the high-gloss trim strip on the belt line form a contrasting effect with the "metallic Peridot brown" paintwork. Full nappa leather upholstery with a diamond pattern in a porcelain shade with black cording, together with the fully leather-clad dashboard, centre console and door trim in black and porcelain create an absolutely exclusive ambience. As a finishing touch, the ML 63 AMG "Performance Studio" interior features a charcoal alcantara roof lining and wood trim finished with high-gloss black piano lacquer.